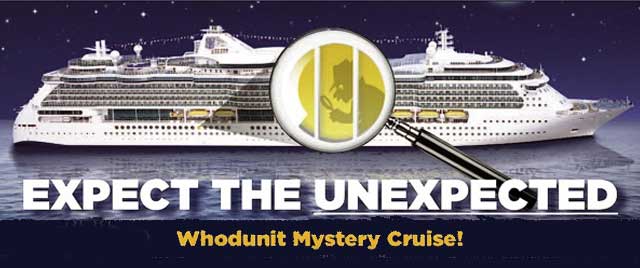 WHODUNIT IN 2015
WE ARE VERY EXCITED TO SHARE THAT WHODUNIT PRODUCTIONS IS NOW SPECIALIZING IN ALL KINDS OF THEME CRUISES!  NOW HERE IS A CLUE…  WITH OUR HANDS FULL LAUNCHING THESE NEW THEMES AND HOSTING CORPORATE CONFERENCES AT SEA, WE HAVE PUT OUR MYSTERY CRUISES ON HOLD FOR 2015.  
Having produced over 100 Mystery Cruises our staff has become experts at taking large groups on a high seas cruise! 
MARCH 6-13, 2016
Aboard the Liberty of the Seas Sailing out of Galveston to the Western Caribbean!
Where does your time travel imagination take you?  Do you picture yourself in Downtown Abby? Could it be The Great Gatsby era of flappers and bright red suspenders?  Does the music of the 40's steal your heart and the ballroom dancing to match? Have you dreamed of walking the cruise ship decks of the Titanic? Are you a Steampunk aficionado that time travels through the Victorian Age? Do the uniforms and traditions of the First or Second World  War move your soul. Whatever takes you back in time join us on our 
 First Ever Time Travel cruise!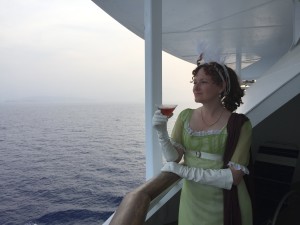 CALL LISA RIGHT AWAY TO GET MORE INFORMATION ON THIS EXCITING NEW CRUISE!  REPEATERS…. COULD YOU TIME TRAVEL BACK AND SEE SOME OF YOUR FAVORITE WHODUNIT CHARACTERS?  ANGIE… VINNIE…
(317)412-2542 
CALL NOW TO LET OUR EXPERTS BOOK YOU ON A CRUISE OF YOUR DREAMS! OR LET US BOOK YOUR COMPANY,  FUNDRAISER, FAMILY REUNION OR SPECIAL EVENT ON A HIGH SEAS VOYAGE!
PLEASE VISIT OUR TWO NEW WEBSITES TO SEE WHAT WE ARE UP TO! 
Exciting! Memorable!! Economical!!! These are just a few words that describe a wonderful all-inclusive experience at sea. We at Sea Conferences can do it ALL for you. With our expertise as Conference and Event Producers, we can design and implement your perfect Cruise. Annual Corporate Events, Shareholders Meetings, Sales Seminars, Executive Retreats, Incentive Programs , we are the Cruise Experts who match the right cruise line, ship and itinerary to your Corporate needs! 
Are you ready to go on your next cruise adventure!  Let our experts help you design your next big vacation!
CALL NOW FOR MORE INFORMATION (661) 297-3208