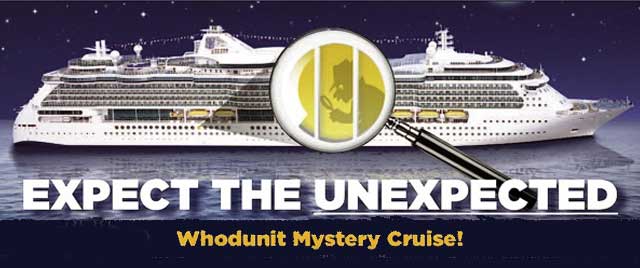 2015 TO DIE FOR SAILINGS!
Sept. 26-Oct. 3, 7 Night RCCL Jewel Of The Seas California Coastal Cruise
Enjoy an elegant experience at sea while MYSTERY and MAYHEM LURK all around you and even INVOLVE YOU!  As the clues unravel try to solve the spectacular mystery of "WHODUNIT" before it's too late!  Whodunit creates a live Murder Mystery aboard the most beautiful ships in the world that you become a part of…as well as try and solve.  There are times during the mystery cruise that you will be following the deadly saga and other times when you are free to just enjoy the cruise…We don't want you to look over your shoulder for the entire cruise now do we?
When you board you will be given your own deadly role to play. Don't worry, if you are on the shy side you can just sit back and watch the plot unfold.  But if you are not shy, then you can use your character to find out as much as you can.  You see the actors will be mixing among you and in character for the entire show!  The hilarious story begins to unfold as you meet all the SUSPICIOUS characters.  During the week there are notes slid under the cabin door and secret rendezvous set up for you… all kinds of CURIOUS happenings!
Nothing will happen on the days we are at port.  So, you won't miss any important CLUES.  But be careful, Captain's Night is bound to be a beautiful, elegant, but DEVILISH night for sure!
Just think mystery…mayhem…red herrings on the menu… intrigue… laughter… star laden skies… and a Murder Mystery On The High Seas!!!!
JOIN US IN 2015 ON OUR NEXT FABULOUS SAILING!
SEPTEMBER 26- OCTOBER 3, 2015 ON ROYAL CARIBBEAN JEWEL OF THE SEAS
Royal Caribbean is BACK on the West Coast for just a few sailings!  And we are on one! We are happy to be back aboard one of our favorite ships, The Radiance Class, Jewel of the Seas sailing from Los Angeles to Santa Barbara, San Francisco, Monterey, Ensenada and back to LA.
CLICK HERE FOR ALL OF THE CLUES ON THIS SAILING!
CALL NOW BEFORE ANOTHER BODY MYSTERIOUSLY APPEARS AND TAKES YOUR PLACE!  (661) 297-3208