Whodunit Murder Mystery Cruise!
Enjoy an elegant experience at sea, while Mystery and MAYHEM LURK all around you, and even INVOLVE YOU!  As the clues unravel, try to solve the spectacular murder mystery of "whodunit" – before it's too late!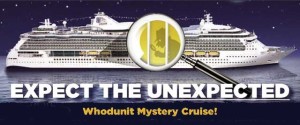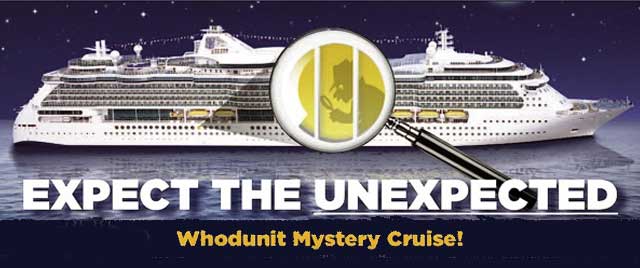 CLUES  (AKA – FAQ'S)
MAYHEM…… Is it Scary?
No!  Whodunit's shows are COMEDIES! So don't expect a deep dark mystery. In fact for those people who just want to kick back, laugh and be entertained…you don't even have to try and solve the crime.
SUSPECTS…… Do I have to play a character?
Everyone will get a role. But it is up to you how much you become your character. If you are on the shy side, you can just sit back and be a fly on the wall, as you try to figure out Whodunit.
ACCOMPLICES…… Is everyone on the ship involved in the mystery?
No.  Only our very special group. However the staff does get involved! From the Cruise Director to the Captain, they love to play when the Whodunit gang boards the ship.
ALIBI…… Are we doing the mystery the WHOLE cruise?
No. The Whodunit team has worked very closely with our Cruise Line to schedule the events so they don't conflict with the other entertainment offered aboard the ship. And there is plenty of free time for you to enjoy the cruising experience. When you board you will receive an itinerary of all the mysterious events. Most of the events take place during one or two special events before dinner and then at dinner each evening, as we all dine together.  All of our activities are scheduled around the cruise line's events taking place on board, so you don't have to miss anything.  Whodunit has one or two specially planned events daily.  Ending with a  hosted cocktail party to celebrate the Grand Super Sleuth Winner!!
RED HERRINGS…… Can I sit at Main Dining and still be involved?
Unfortunately, the itinerary and events are set around the 2nd seating schedule. This allows us to have events during the 6:30 – 7:30 hour when everyone is aboard. Obviously this would conflict with the main seating dinner hour. And, since so many of the clues are also given out during the dinner hour … we would hate for you to miss them.
THE GETAWAY…… Can children come?
It's up to you. They will have a role in our little game just like everyone else. However, there IS a lot of adult humor during the course of the show. After all, what is a mystery without a secret lover…or two? Also keep in mind that we are all seated at 2nd seating and this might be too late for the children, though if they do attend, children 6 and under are free.
CORPSE…… Could I be the victim?
No…then you couldn't enjoy the show!
DISGUISE…… What is the attire for the cruise?
Come dressed to kill, of course!  But make sure you bring a fabulous mask for the Masquerade wedding…or a semi-fabulous one will be provided for you!
CANCELLATION POLICY…DEADLY!
Please note that if the mystery cruise does not receive enough guests signing up by final payment* we will cancel the mystery add on portion of the cruise. You will be notified and offered the opportunity to stay on the sailing without the mystery, or you may cancel. But you must let us know by final payment of your decision if you want a refund. Please contact us to confirm especially if you have been booked by another Travel Agent.
You can receive a full refund of your mystery add on fee until the Cruise Line's Final Payment Date for that Sailing. There is no refund of the mystery add on fee after the Cruise Line Final Payment Date. However, we allow name changes until 2 weeks prior. Please be aware that Berkeley Care Insurance will not cover this if you cancel after final payment. And there is no refund for any reasons. So don't miss the boat!
*Whodunit reserves the right to cancel the mystery portion of the sailing by final payment if we do not reach enough guests to pay for the costs of the mystery. This is solely decided on by Whodunit Productions, Inc.
Exciting! Memorable!! Economical!!! These are just a few words that describe a wonderful all-inclusive experience at sea. We at Sea Conferences can do it ALL for you. With our expertise as Conference and Event Producers, we can design and implement your perfect Cruise. Annual Corporate Events, Shareholders Meetings, Sales Seminars, Executive Retreats, Incentive Programs , we are the Cruise Experts who match the right cruise line, ship and itinerary to your Corporate needs!
Are you ready to go on your next cruise adventure!  Let our experts help you design your next big vacation!
CALL NOW FOR MORE INFORMATION (661) 297-3208
CALL US TO BOOK NOW – (661) 297-3208
We are here to book your Cruise and to answer any questions you may have, so please don't hesitate to contact us. We are here to help you!!! Big Cruise Adventures is a Website of the Travel Agency Whodunit Productions, Inc. Whodunit Productions always suggest that you purchase a Travel Protection Plan to help protect you and your cruise purchase.
Whodunit Productions, Inc is a Registered Seller of Travel in the State of California #2003317-40
Travel Protection
Now's the time to consider purchasing a travel protection plan to protect your travel investment. For more information on the available plans or to enroll, click here to enroll online or contact Travelex Insurance Services at 800-228-9792 and reference location number 15-1479.
Travel Insurance is underwritten by, Berkshire Hathaway Specialty Insurance Company (formerly known as Stonewall Insurance Company), 1314 Douglas Street, Suite 1400, Omaha, NE 68102. 11.17 W20