Enjoy an elegant adventure at sea, while MYSTERY and MAYHEM LURK all around you, and even INVOLVE YOU! As the clues unravel, try to solve the spectacular murder mystery of "whodunit" -before it's too late!
THE WHODUNIT PRODUCTIONS INC. DOSSIER
WHODUNIT PRODUCTIONS ENTERTAINMENT DIVISION has been creating corporate and private events since 1989. It originated as one of L.A.'s murder mystery companies, putting crime on the rise and continues to do so! In 1992 WHODUNIT began to take their criminal activities to the high seas. Starting with small groups of mystery Super Sleuths sailing out of Los Angeles, WHODUNIT grew to become partners in crime with the major cruise lines causing mutiny and merriment worldwide with groups of over 300 suspects at a time.
In between their hundreds of cruises, WHODUNIT has been caught in the act in the Copacabana Room at the Rio, entertaining at the Aladdin, creating havoc at The Desert Inn (we swear we didn't kill it!) and…working hand in hand with the Corporate Cruise Division… creating all kinds of theme cruises for corporations and cruise lines around the country.  Our latest adventure is the Annual Steampunk Cruise!
Whodunit Casts are made up of the finest comedy/improv Actors in the Los Angeles area.  Our actors are all Industry Professionals and can be seen starring on the little and big screen any night of the week!
Whodunit s a full fledged land and Cruise Travel Agency.  We have been proud members of CLIA-Cruise Lines International Agency since 1991.  We are also registered in the State of California Justice Department's Seller of Travel Program.
FOR MORE INFORMATION ON PARTNERING WITH WHODUNIT ON A THEME EVENT, PLEASE CONTACT SHAUNA@WHODUNITCRUISES.COM, or CALL (661) 297-3208
SHAUNA HOFFMAN, CEO of Whodunit Productions Inc has been creating theme cruises and corporate events for over 20 years. From the first one in 1991 through her Partnership with Royal Caribbean Cruise Lines she has brought over 120 sailings aboard their ships.  She is an expert in creating, writing, launching and producing events aboard the cruise lines. Whodunit Productions has a staff ready to handle every angle of an event. Ms. Hoffman works directly with  Corporations and Travel Agencies nationwide to assist them in everything from procuring their ship contracts to all of the on-board, pre-, during and post logistics for their large group sailings.     Ms. Hoffman is a widely known Travel Speaker who has presented to such clients as Cruise Planners American Express,  Royal Caribbean Cruise Lines, and OSSN. 
LISA HARDING is Whodunit's Travel Agent extra-ordinaire, not to mention on-board Producer.  With her start at Ice Gallery as one of their group specialists she has branched out to assist Travel Agents nationwide to produce their events on the cruise lines.  She works though Whodunit to guarantee that all of mystery cruise bookings are done to perfection.  Her knowledge of the many different cruise lines, what they offer aboard the ships and where they sail is only one way  that Lisa brings her brilliance to our team.  Based in Indiana she travels all over the world to assist  Travel Agents produce their on-board events.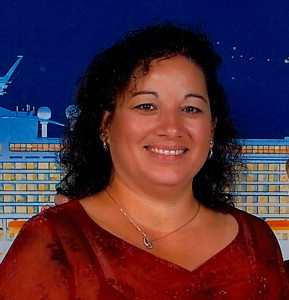 CALL US TO BOOK NOW – (661) 297-3208
We are here to book your Cruise and to answer any questions you may have, so please don't hesitate to contact us. We are here to help you!!! Big Cruise Adventures is a Website of the Travel Agency Whodunit Productions, Inc. Whodunit Productions always suggest that you purchase a Travel Protection Plan to help protect you and your cruise purchase.
Whodunit Productions, Inc is a Registered Seller of Travel in the State of California #2003317-40
Travel Protection
Now's the time to consider purchasing a travel protection plan to protect your travel investment. For more information on the available plans or to enroll, click here to enroll online or contact Travelex Insurance Services at 800-228-9792 and reference location number 15-1479.
Travel Insurance is underwritten by, Berkshire Hathaway Specialty Insurance Company (formerly known as Stonewall Insurance Company), 1314 Douglas Street, Suite 1400, Omaha, NE 68102. 11.17 W20